Day 1: Civil Registrar's Office
Here are some pictures from today. There'll be more from the professional photographer but of course I could not resist taking a few shots myself... Aren't we looking fabulous?! And thank God, it only started pouring down after we were done...
Just some details: Bjoern is Tom's best man, while Yvonne chose both Birgit and me as witnesses.
Today was the "official" part at the civil registrar's office in Korneuburg (Niederoesterreich). It took place at the city hall which is a beuatiful gothic building. I loved the staircase inside. On the other hand, we weren't the only marriage today so I almost didn't get a parking lot. Luckily I was in time (at least for once in my life... Yvonne would have killed me if I'd been late!) and it only took me 4 rounds across town to find a place to park.
It was quite cloudy and windy today (that's why my hair looks so funny on the pictures!) but really humid. Not quite the best conditions if you wear a silk dress. Anyway at least it wasn't raining, at least not before and during the ceremony - which was beautiful. All of a sudden everyone started crying while the happy couple and us (witnesses) put our signature on the document to make it official. Followed by the obligatory kiss...
The we all headed of to make photos and then for lunch and coffee to their house with the big garden. I also put up some pictures of the tent (which turned out to be useful while it was only drizzling) and the beautifully decorated table. (Pink, of course. Yes, we are soulmates in some ways...)

Let's hope for good weather for tomorrow!
Bjoern, Tom & Yvonne, me and Birgit
Tom & Yvonne with Yvonne's parents
Agnes (Yvonne's sister), Vicky, Yvonne and their mom
Tom & Yvonne with Agnes and her husband Tom
(yeah, we call them Tom-Tom)
"Afterparty" in the garden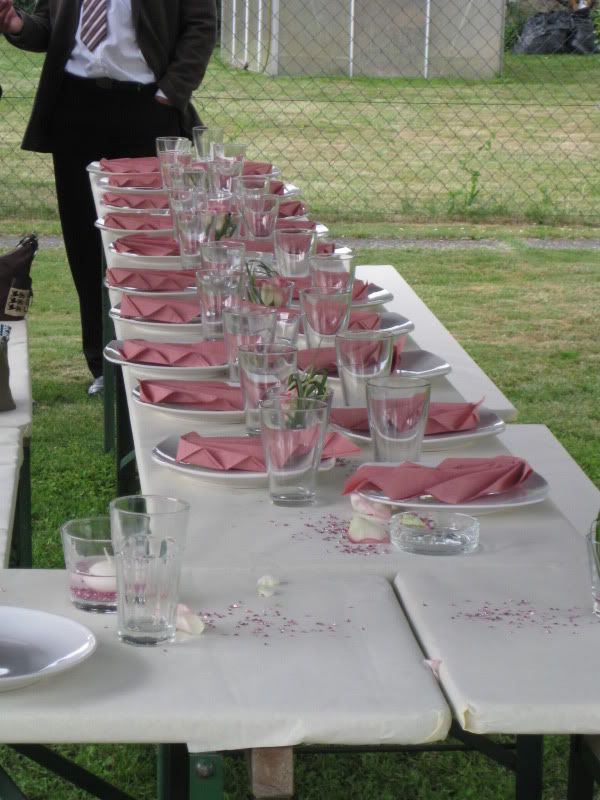 decorations